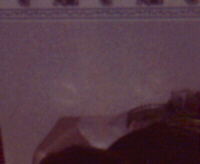 These images were derived from a Polaroid photograph taken by John Tosti, in March of 1998.
For some reason which he did not understand, John felt a sudden compulsion to grab the camera, rush into the bathroom, and snap a picture of the wall, over the stool.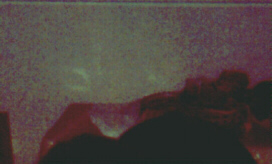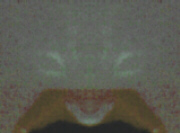 Top left image shows the left eye (barely visible) wide open, while the right eye appears to be partially closed.

Top right image is enhanced. It reveals some sort of structure on the forehead between the right eye and the nose area.

Image on left is a composite of two right halves, one inverted and stitched to the other, for illustrative purposes.

Sketch on right is for illustrative purposes.