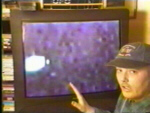 John describes the movement and behavior of a UFO videotaped south of Bloomington, Indiana.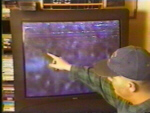 John points out an antenna on top of the dome area on a disk-shaped UFO, as it hovered over Kirksville, in Monroe County, Indiana.
This is a series of images from videotape shot by John Tosti in 1997, near the small community of Kirksville, located in southwestern Monroe County, Indiana.
John has witnessed and recorded several UFO sighting events in and around this rural area, just south and west of Bloomington.